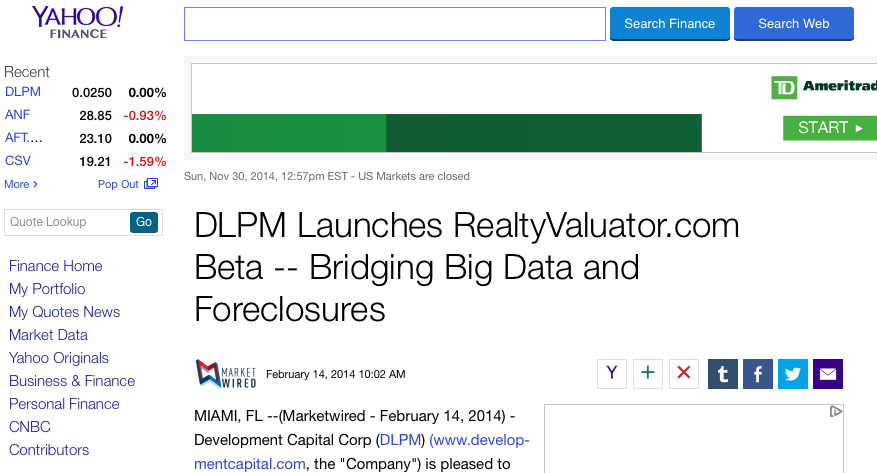 We are happy to announce that the launch of our project Realty Valuator with Development Capital Group has hit a big milestone today and now its out in the marketplace for people to BETA test! We raised close to a million dollars when we started this project, and now the technology that we have been working on is ready for investors to test out. This real estate foreclosure tool is a big advantage for investors looking to buy assets in the Florida market.
RV allows prospective real estate investors to search for available properties within a specific region in real time. Real estate investors will be able to assess accurately the variance between the list price and property valuation. Users will be enabled to forecast various cost & return rate scenarios associated with purchasing, renovating, and leasing each property based on current market data. Ultimately, RV gives a real estate investor similar or better tools than what current real estate investment firms are using to analyze the market. This beta release will initially only be applicable to the Florida market, however, the Company plans to expand into other states.
Joseph Ricard, President of DLPM and the developer of RealtyValuator.com, said of the application's launch: "The application is amazing. I saw a house in Pensacola, Florida, sell for 50 percent of the valuation price. Everyone who has now seen the beta version is excited to see the new features as they roll out. I know this is just the beginning, and I have so many other markets to expand too."
The company has updated its landing page, which allows visitors to sign up for an e-mail alert for the official launch, or they are provided with a link that allows potential real estate investors to click over and view the beta version of RealtyValuator today.